When I first realized that I wanted to make a film – er at the time, animation – was in my third year of high school when I saw the feature film version of Galaxy Express 999. I had slept in line for a week in front of the Toei theater in Ikebukuro so I could get my hands on the holy grail, a real cel from the film. I wept in the theater during the early morning screening on the first day. I'm sure that I was by that point a pretty disheveled and quite smelly otaku the tale of Tetsuro Hoshino and his dream trip through space and back to reality mirrored my own experience as an audience member. I was overwhelmed by the illusory nature of it all, the idea that "pictures can move and produce a transcendental experience" realized then and there the galat. I decided right then and there.
The work I do now as a contemporary artist is in a distant dimension from that. It involves arranging the puzzle pieces of artistic context and history in a professional manner – there's no rooms for tales like that of Tetsuro Hoshino and his journey to the farthest reaches of the Milky Way. That's why, no matter what the cost, I've been moving to create that same sensation that moved me in a film or animation of my own. So far, however, I have never been able to do anything feature length, settling for one short a year. Jellyfish Eyes represents a perfect chance for me to turn this situation on its head and enter into a new world outside of my expertise.
By the way, I'm a big fan of the Japanese movies All About Lily Chou Chou and Nobody Knows. I've discussed creating that sort of atmosphere with Nishimura-san and Nakano-san and that's what we're aiming for as we shoot.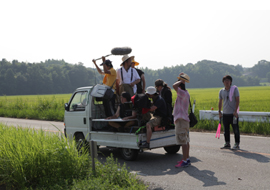 I just had to shoot in this pastoral scenery, it's been haunting my dreams. We drove out there in a light truck.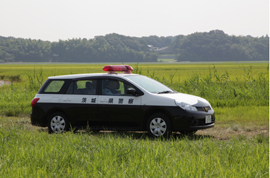 A patrol car showed up on set. "Is this for a film? For TV? When will it be released? What's it about?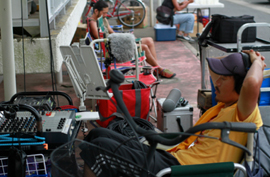 Sound Director Shinichi Yoshii. "Wait. A plane's passing over." He never misses even the slightest sound. His sarcastic banter with the staff is quite amusing.
Here I am asleep. It's a greenhouse here. 40℃.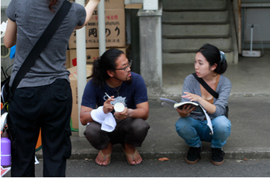 On the left is Special Effects staff Taiga "Big Glasses" Ishino. He was once Nishimura-san's right hand man but now works independently. On the right is Nishimura Eizo AP Nanae Yoshida.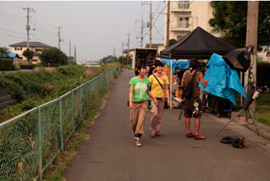 From left to right: Art staff Masami Kotani and Set decoration staff Hiromi "Oden-chan" Kasuya. We call her that because she looks like the Lily Franky character "Oden-kun".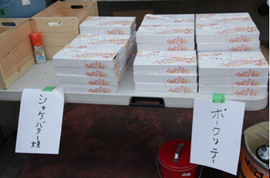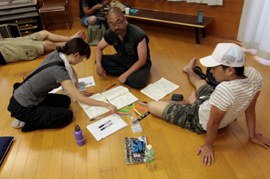 The shooting is being done in the typical gung-ho Nishimura style with as many as 60 shots per day. Second assistant directors Toyohiro Miyata and Shiho Kosaka take a break to reference storyboards and plan the next scene. I myself am taking a care-free nap.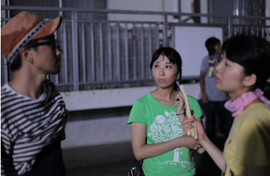 Art staff. From left to right: Tetsuya Nomura, Masami Kotani, and Oden-chan-san. Shooting has gone well on into the middle of the night!
Day 3 of Shooting
Creating and sleep… I am always dealing with the problem of balancing the two. As a contemporary artist, I often find myself traveling abroad which means lots of jet lag. Upon arriving at the museum or gallery hosting my show, I often collapse instantly on the floor and fall asleep. On one occasion, I even entered the museum in the morning and slept until 7 PM, being laughed at by staff in the process. Despite the response, I believe that it is impossible to create art without sleep. The ability to grasp an idea depends on whether we are fully prepared to do so when the moment comes. Like a surfer waiting for a wave, a big wave. It's a skill… or so I believe.
At the basic level, I am someone who has long given upon the idea that I have any miraculous permanent natural talent. Instead, I surround myself with people with high ability and prepare my nerves for the wave. A person with that sort of talent, a genius wave rider, relies on their intuition and they find themselves unable to cope if they are not in perfect condition. And that is why I sleep. I keep my brain flexible so that when the flash of inspiration comes, I do not let it pass me by. For that reason, I sleep. But now I'm making a film… and I'm dealing with time lag from traveling in Japan. I wake up at 4:30 Am and the shoot ends between 7 and 9. I'm sleepy… and that is why, finally… I slept on set.
Nishimura-san, Shio-chan-san: please accept my apologies. This has turned in to a very long excuse…. (but I'm serious about most of it.)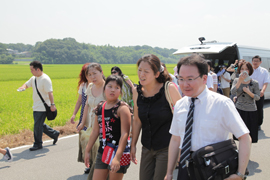 Our first day of shooting with extras. Thanks to everyone for braving the boiling heat to come on out.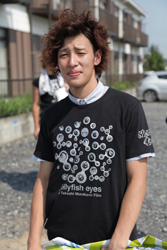 Taiga Morishita is one of the first to try on the staff t-shirts. He is a costuming assistant and a new recruit at Kazuki Yunoki's office.
Checking things on the monitor on set. It's really hot!! Manabu Matsumoto from Special effects kept wiping sweat off his legs with Gatsby wet tissues. "It's a great way to cool down."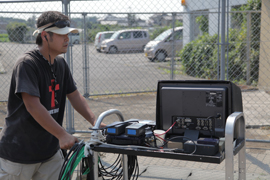 Manabu (Gatsby) Matsumoto from Special Effects.
Day 2 of Shooting
It's hot! It's hot! It's hot! It's really, incredibly hot. I've never experienced heat like this before. When you shoot a movie, you package it's environment. Sound, lighting, and everything in between must be organized. Sound especially presents a lot of problems. That means no air conditioners to improve air flow, no electric fans… which means that we're getting the brunt of the heat in its entirety. Not to mention the fact that all the equipment we're using is electrical. Each piece is giving off heat. Every person on set is giving off heat. And there's no fan. It's really, really hot. I feel smothered in sweat.
The sound team, lighting team, special effects team, hair styling team, Nishimura-san and myself – those we call the base of this project – are gathered in the room where the monitors are, what we call the base. Of course the base is not the only place that's hot. It's even worse in front of the cameras. And yet, everyone from the actors to the crew are working without complaint, all trying to take the best picture possible. I find myself thinking that this is what it means to make a movie.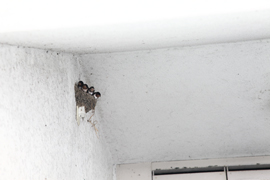 We discovered a barn swallow's nest on set. The next day, a group of lively little birds flew out from inside.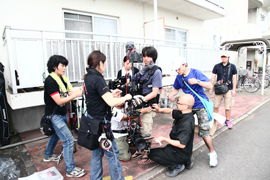 The steadicam. For my generation, it brings back memories of Sam Raimi's Evil Dead. I never thought I would get to use one for Jellyfish Eyes… cool!!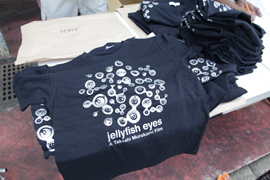 We handed out staff t-shirts on this day.