Today is the last day of shooting at the location near where Chisato Moritaka's music video was shot. There were still a lot of shots to take and the mood was one of maximum focus. "Action! Cut! Action! Cut!" . Nishimura-san's voice was booming across the set in a regular rhythm while I busied myself obsessively making adjustments to the props. In the process, I ended up causing delays in the otherwise frantic pace and won the crew's consternation. Sorry everybody.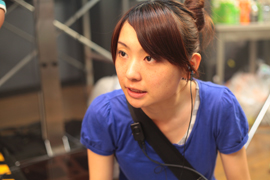 Second Assistant Director Shiho Kosaka, who also has a credit on the Jellyfish Eyes script. She's a hard taskmaster on set! (in typical Nishimura fashion)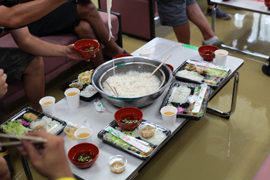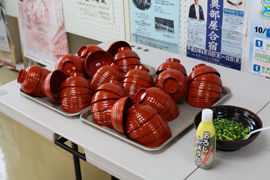 In addition to our usual box lunches, today we also had Somen.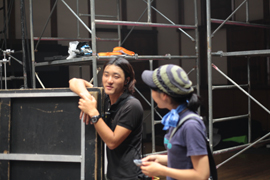 From left: Third Assistant Director Masayoshi Kishida (aka Kishi) and set decoration staff "Oden-chan".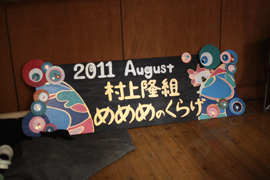 On Japanese movie sets, the crew take on the name of the Director. Therefore, for our film, we are known as the "Murakami Unit". The staff even made a commemorative sign.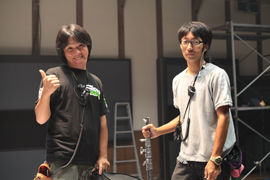 Lighting director Jun Kodama and Daisuke "Dai-chan" Miura. Kodama-san is a newly wed, ceremony held in May.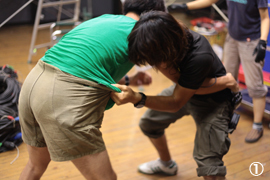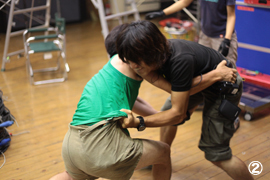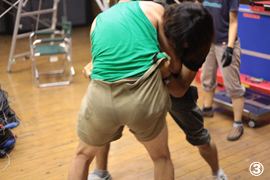 Action choreography! ……actually, it's just staff horsing around.