This is it. The first day of shooting. I felt like my nerves were going to burst… actually, it's more like I'm too sleepy to think. Nishimura-san is kindly carrying me along on his back and yet… it's still exhausting to adjust to the pace of the set and maintain my bearings. The staff, however, perform their tasks one after the other with energy to spare. It made me realize just how lazy the art world is. And it's only my first day.
On top of that, we have to prioritize logistics and that means that the story keeps jumping all over the place, leaving my brain a jumbled mess. The sun is baring down hard here in Chiba. After just two hours, any areas of exposed skin have turned jet black. This is it – the Jellyfish Eyes world has begun to come to life!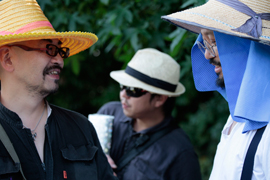 On the left is assistant director Yoshihiro Nishimura. @ni4yo4
In many ways, he can be considered the father of the Jellyfish Eyes project. He's handled everything from the script, to the storyboards, to calling the shots on set. And his new film Helldriver is in theaters now (from August 19 at Ginza Cinepathos.
In the center is assistant director Shiozaki, aka Shio-chan. @juns610
He takes care of the crew. From this photo, he looks like a dyed-in-the-wool movie industry man but he's actually a person of great sensitivity, who's not afraid to get in people's faces and is a hard taskmasker… in other words, he's a movie industry man.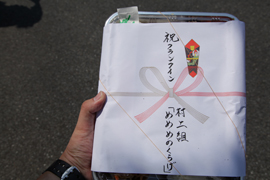 The first day of shooting. All of our box-lunches had special hand-made congratulations on their wrapping. It made me quite happy, so I kept the paper.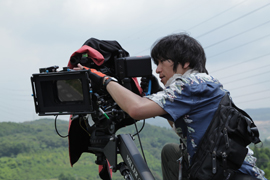 From day 1, Yasutaka Nagano has been shooting from all sorts of high spots. Let's be honest, he likes it up there.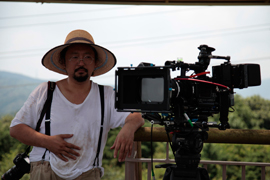 I too had my picture taken with a camera. Movie cameras are cool.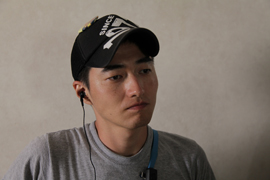 Second assistant director Toyohiro Miyata. He gives detailed instructions to the actors and keeps track of the overall structure. He also wears a different cap everyday. Today he came all the way from Chiba and by nightfall he was shooting at a studio in Tokyo. And that's only on the first day. This photo was taken at the studio.