Today, our entire staff assembled for a meeting to mark the first day of shooting. With over 100 cast and crew present it was a great opportunity to build up morale.
The decision to shoot a Jellyfish Eyes as a live action movie came after encouragement from Helldriver director Yoshihiro Nishimura but in fact, this project began live ten years ago as a plan for a full legnth CG animation. It then saw life as a motif for a series of paintings and sculptures.

Painting
「Jellyfish Eyes-MAX & Shimon in the Strange Forest」2004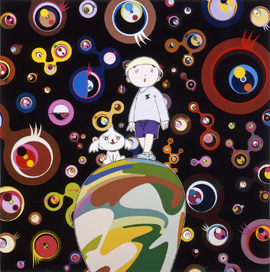 Sculpture
「Jellyfish Eyes – TATSUYA」2004, 「Jellyfish Eyes – MAX & SHIMON」2004,「Jellyfish Eyes – SAKI」2004
Title (From Left to Right)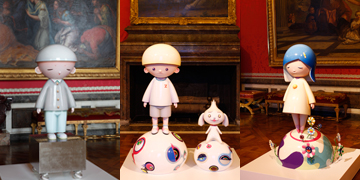 As noted above, we originally expected the project to be completed as an animation. Things proceeded for half a year under the palindromic Japanese title Kodomo no Modoko but after half a year, we concluded that it was impossible to achieve Murakami's vision at the time. Now we've decided to throw all the ideas that have been collected for the project over the last ten years into this live action film. It is that film which begins life today, August 4th.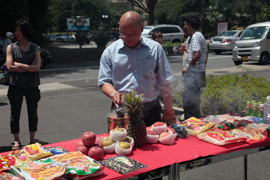 Feng Shui Master YU came all the way from Taiwan to perform a ceremony praying for the safety of those on set.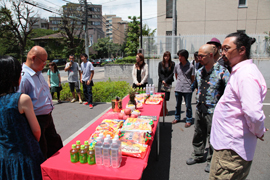 Staff waiting for the ceremony to begin.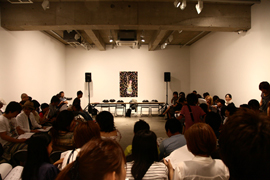 I'm truly grateful to the more than 100 staff members who attended the ceremony.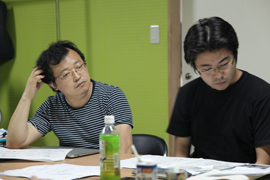 After the ceremony and initial reading of the script, we headed to Pabaan Studios to discuss shooting. On the left is Visual Effects Supervisor Tsuyoshi Kazuno (STUDIO BUCKHORN). On the right is Special Effect Supervisor Kiyotaka Tanaka.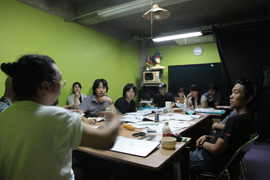 A photo of discussions taking place at Pabaan. In the back right is action coordinator Isao Karasawa(ZERO'S).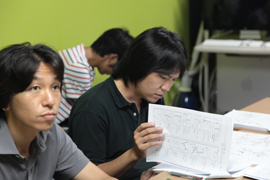 On the left is Director of Photography Yasutaka Nakano and on the right is Lighting Director Jun Kodama.