When I first realized that I wanted to make a film – er at the time, animation – was in my third year of high school when I saw the feature film version of Galaxy Express 999. I had slept in line for a week in front of the Toei theater in Ikebukuro so I could get my hands on the holy grail, a real cel from the film. I wept in the theater during the early morning screening on the first day. I'm sure that I was by that point a pretty disheveled and quite smelly otaku the tale of Tetsuro Hoshino and his dream trip through space and back to reality mirrored my own experience as an audience member. I was overwhelmed by the illusory nature of it all, the idea that "pictures can move and produce a transcendental experience" realized then and there the galat. I decided right then and there.
The work I do now as a contemporary artist is in a distant dimension from that. It involves arranging the puzzle pieces of artistic context and history in a professional manner – there's no rooms for tales like that of Tetsuro Hoshino and his journey to the farthest reaches of the Milky Way. That's why, no matter what the cost, I've been moving to create that same sensation that moved me in a film or animation of my own. So far, however, I have never been able to do anything feature length, settling for one short a year. Jellyfish Eyes represents a perfect chance for me to turn this situation on its head and enter into a new world outside of my expertise.
By the way, I'm a big fan of the Japanese movies All About Lily Chou Chou and Nobody Knows. I've discussed creating that sort of atmosphere with Nishimura-san and Nakano-san and that's what we're aiming for as we shoot.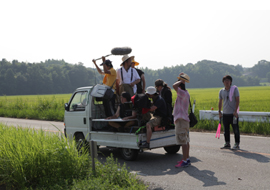 I just had to shoot in this pastoral scenery, it's been haunting my dreams. We drove out there in a light truck.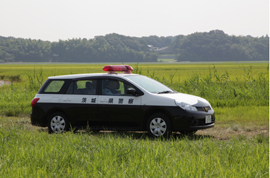 A patrol car showed up on set. "Is this for a film? For TV? When will it be released? What's it about?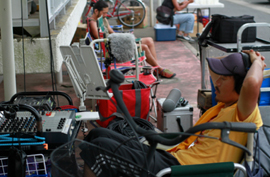 Sound Director Shinichi Yoshii. "Wait. A plane's passing over." He never misses even the slightest sound. His sarcastic banter with the staff is quite amusing.
Here I am asleep. It's a greenhouse here. 40℃.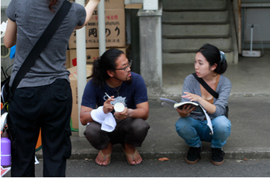 On the left is Special Effects staff Taiga "Big Glasses" Ishino. He was once Nishimura-san's right hand man but now works independently. On the right is Nishimura Eizo AP Nanae Yoshida.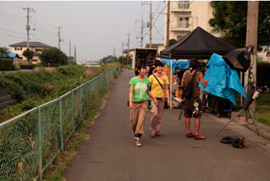 From left to right: Art staff Masami Kotani and Set decoration staff Hiromi "Oden-chan" Kasuya. We call her that because she looks like the Lily Franky character "Oden-kun".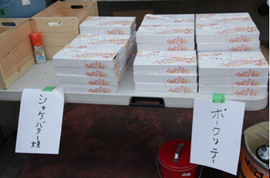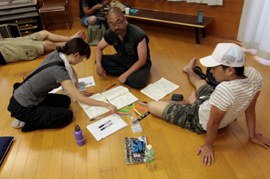 The shooting is being done in the typical gung-ho Nishimura style with as many as 60 shots per day. Second assistant directors Toyohiro Miyata and Shiho Kosaka take a break to reference storyboards and plan the next scene. I myself am taking a care-free nap.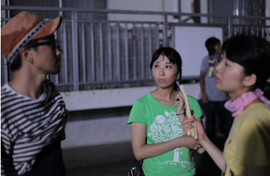 Art staff. From left to right: Tetsuya Nomura, Masami Kotani, and Oden-chan-san. Shooting has gone well on into the middle of the night!