Jellyfish Eyes Returns to America with a Nationwide tour!!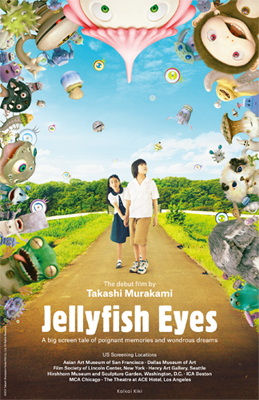 We are pleased to announce that from May 1 ~ June 5 2014, Jellyfish Eyes will tour several venues in the United States.
Last year's April premiere at LACMA was a full house, attended by Hollywood's a list, including names like Brian Grazer and actor Jack Black, as well as
many prominent faces from the art community. Due to continued interest in the film after the success of the initial screening, we enlisted the help of our
gallery Blum & Poe and are now ready to bring Jellyfish Eyes back to the US.
The tour will take place over the course of one month and include stops at major art institutions in Dallas, Boston, Seattle, Washington DC, Chicago, LA, NY, and San Francisco.
Our second screening in LA will be held at what is known as a veritable temple of art, The Ace Hotel. The screening in New York will likewise happen at that famous treasure of the entertainment world, Lincoln Center.
Takashi Murakami himself will be present at several stops on the tour and will be participating in live talks with the museum/theater staff.
We will continue to update this page with the latest information, so please keep an eye out.
| Date | Venue | Location |
| --- | --- | --- |
| May 1 | DALLAS MUSEUM OF ART | DALLAS, TX |
| May 1, 10, 11, 12, 25 and 26 | INSTITUTE OF CONTENPORARY ART | BOSTON, MA |
| May 2, 3, 4 | HENRY ART GALLERY | SEATTLE, WA |
| May 22 | HIRSHHORN MUSEUM AND SCULPTURE GARDEN | WASHINGTON, DC |
| May 25 | MUSEUM OF CONTEMPORARY ART | CHICAGO, IL |
| May 30 | THE THEATRE AT THE ACE HOTEL | LOS ANGELES, CA |
| June 1 | FILM SOCIETY OF LINCOLN CENTER | NEW YORK, NY |
| June 5 | ASIAN ART MUSEUM | SAN FRANCISCO, CA |
The official US website can be found here:
http://jellyfisheyesthemovie.com/