Weather, weather! It's all about the weather!
Thanks to Feng Shui Master YU's help, we've had little to no troule on set so far but from today, we have to shoot the massive school festival scenes and I want it to be sunny. Master YU!! I'm counting on you.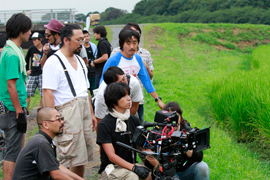 Shooting a nice pastoral scene… I feel like I'm on the set of "The Naked General". Oh and hey, since shooting started, I've lost a little weight.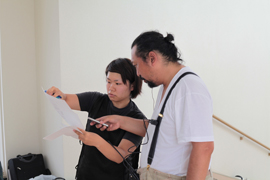 Jellyfish Eyes Webmaster Mai Miyazaki (KK).
Her work often involves barging onto the set to confirm fine adjustments. Everyday brings a new state of high alert.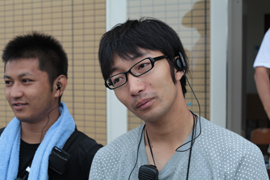 On the left is Kazuki Kinjyo (AKA Yochi) and on the right is Daisuke Miura (AKA Dai-chan). They work hard on every shot. Right up until the cameras roll.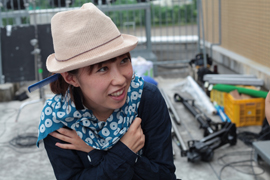 Hair and makeup assistant Chika Tanabe. She often runs between base and the set, ensuring that each cast member's face remains in its best condition.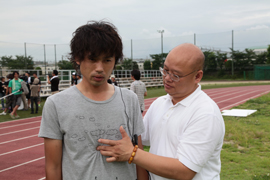 There have veen several incidents of falling asleep while driving lately so I asked Master YU to come again from Taiwan. He prayed for us for a full three days. Production manager Saito-san takes his time to restore balance.