Day 2 of Shooting
It's hot! It's hot! It's hot! It's really, incredibly hot. I've never experienced heat like this before. When you shoot a movie, you package it's environment. Sound, lighting, and everything in between must be organized. Sound especially presents a lot of problems. That means no air conditioners to improve air flow, no electric fans… which means that we're getting the brunt of the heat in its entirety. Not to mention the fact that all the equipment we're using is electrical. Each piece is giving off heat. Every person on set is giving off heat. And there's no fan. It's really, really hot. I feel smothered in sweat.
The sound team, lighting team, special effects team, hair styling team, Nishimura-san and myself – those we call the base of this project – are gathered in the room where the monitors are, what we call the base. Of course the base is not the only place that's hot. It's even worse in front of the cameras. And yet, everyone from the actors to the crew are working without complaint, all trying to take the best picture possible. I find myself thinking that this is what it means to make a movie.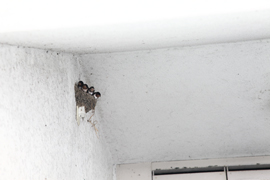 We discovered a barn swallow's nest on set. The next day, a group of lively little birds flew out from inside.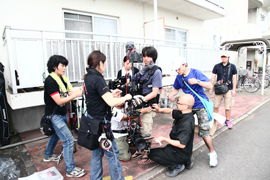 The steadicam. For my generation, it brings back memories of Sam Raimi's Evil Dead. I never thought I would get to use one for Jellyfish Eyes… cool!!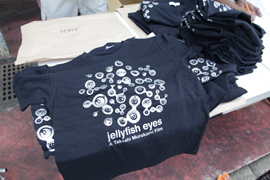 We handed out staff t-shirts on this day.