A Work Born From Encounters: Jellyfish Eyes
July 16, 2011

Geijutsu Shincho Feb, 2011
Takashi Murakami 《Lingam Lingam》
The project that introduced Murakami to Yoshihiro Nishimura
The Jellyfish Eyes project began over ten years ago as a full cg animated film but after many twists and turns, it was put on the shelf. It was only after meeting Yoshihiro Nishimura of Nishimura Eizou that it was reborn as a live action feature.
I met Mr. Nishimura while I was working on a series of column visuals for the Art Magazine Geijutsu Shincho. With the help of my old friend, the stylist Kazuki Yunoki, the series involved my creating a visual response to columns written by the art historian Nobuo Tsuji, each of which focused on a specific theme. Mr. Nishimura become involved when we were called upon to reproduce an Indian Lingam sculpture.. Mr. Yunoki introduced me to him as a special effects make up artist.
The column finished a success but I remained impressed with the unique nature of the team we had assembled and decided to invite everyone for drinks as an after-party – even though, I should note , that I don't really drink myself. This mini-banquet went off smashingly and before I knew it, I was spilling my guts to Nishimura about the complications I had encountered in making films and animation, while also eagerly listening to his thoughts on his own work. It was then that Nishimura told me: "For your first film, Takashi, you really should just make te movie that you want to make. Like David Lynch did with Eraserhead!" He would repeat this statement several times over the evening. At first I figured that this was just flattery intended to get him through the party and so I didn't really respond but even as we were winding down and saying goodbye, he approached me to make his pitch once more before going home. "A director's first film should…"
He was so clingy (I don't meant this in a bad way!) that the next day, I called up Yunoki and told him what had happened. "Nishimura is a great guy!" he told me, completely cutting through my concerns. And that settled it. I called up Nishimura and asked him if his company had ever produced a film. That was early December, 2010.
Since then, we've added new members. Mr. Nishimura introduced me to screenwriter Jun Tsugita, producer Mana Fukui, visual effects supervisor Tsuyoshi Kazuno, and others, moving the plan forward without rest, even in the midst of the disaster in March.
As of this writing, we haven't yet begun shooting, but I wanted to share with everyone the story of how I and the Kaikai Kiki staff met those involved with the film. What we present to you now is the result of the strange accident of fate that brought myself and Mr. Nishimura together but that only leads me to believe that Jellyfish Eyes will be a very special film.
These sorts of encounters are one of life's treasures.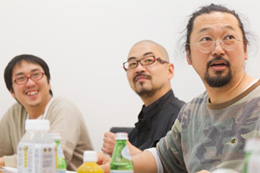 From left: Assistant directors Jun Shiozaki and Yoshihiro Nishimura
In the wake of 3/11, the damage sustained by Japan runs deep. We must all do our best to emerge from that shadow. It will require connections among people… more to the point, it will require the instinctive ability to spot opportunity and inspire trust. That is how our current team came together.
While this is my feature film debut as a director, for Nishimura it is like a child. He seduced me and now we're giving birth together.
I am someone who often has trouble communicating with people. It is for that reason that I became an artist, the overwhelming urge to share my heart with those around me through my work. I feel that it is the same for all people who create for a living. We imbue our soul in our works, exhaust ourselves day and night, and it is only then that we obtain even a fraction of the social interaction that most people achieve. In the end, however, this is our only way to communicate with society.
That is why we have no choice but to join hands and weave a single message together.
This is the sort of film that I want to share with all of you reading this. We will put our faith in the belief that this passion will come across and labor to bring our work to life.
As the person on this set with the least knowledge and experience of film production, I know that I should refrain from saying these sorts of things, but I desperately wanted to share and record my first impressions and here we are.
Jellyfish Eyes has begun production. Thank you to everyone for your support
Takashi Murakami

Geijutsu Shincho, Feb, 2011, Nobuo Tsuji x Takashi Murakami Nippon E Awase #13: Lingalm